Thoughts of an American Taxpayer
By G. Williamson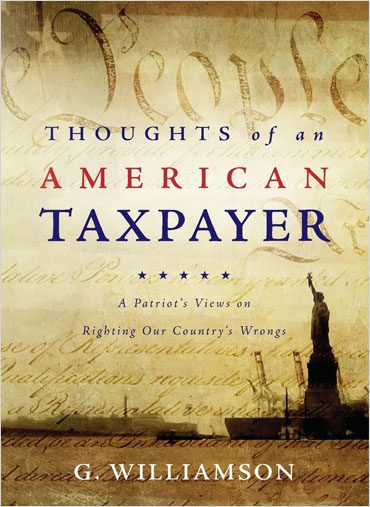 Looking all around us, it is evident that the United States of America is heading down a course of economic, Financial, and social ruin thanks, in most part, to an irresponsible and careless government. Author G. Williamson, through his passionate writing in Thoughts of an American Taxpayer, shows us why he believes that our out-of-control government no longer cares about our Constitution, economy, businesses, or families. It is a government ruled not by the people but by progressive reformers who seek to place restrictions on our individual freedoms…. Read More

American Business
Our private sector businesses are the backbone of this country and will be the only way country will succeed or survive.

Economy and Jobs
The economy is still very strong despite all the politicians' efforts to control and destroy it. They have no business with our capital and free market system

war on terror
My fellow Americans, we need to be honest with each other and admit we are at war on terror.

social security
I think all government employees, congressmen, senators, the vice president and the President should combine their retirement plans with our Social Security Administration plan.
I was born in 1957 and grew up in a small town in the Midwest. My father worked as a mechanic and my mother was employed by the telephone company and later worked at the hospital. I graduated from college in 1981 and moved shortly thereafter to the South. Learn More

G. Williamson